I want to replace my windows what shall I pay attention to?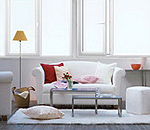 While purchasing windows, functionality and insulation features shall be taken into consideration as well as aesthetics. Windows which provide good insulation are an investment factor that enables us to realize savings in addition to its appearance. You can also prefer wooden like windows which suits the interior of your house and external surface of your building. Wooden like finishing can be applied on a single surface or both surfaces. Temperature, noise and water insulation problems which may arise later may be eliminated by carrying out static calculation for your windows according to the zone, location and altitude of your building.
What shall I pay attention to while choosing dealers?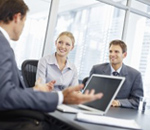 You can contact our production dealers listed in the website www.winhouse.com.tr to ensure that your windows are under warranty coverage and installed with specialist workmanship.
What shall I consider while choosing among series of profiles?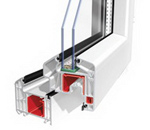 While choosing profiles, height and chamber quantity are the most important factors that affect insulation values. Insulation values increase when the height and quantity of chambers increase. It will be suitable to use our 60 mm – 70 mm – 75 mm and 80 mm series according to the location and altitude of your building. 60 mm series has 4 chambers, 70 mm series has 5 chambers, 75 and 80 mm series have 6 chambers.
What shall I consider while choosing glazing?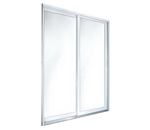 Glazing is one of the most important components of a window. The most important component of the window that influences the heat insulation value is glazing. Particularly, if your window separates interior from exterior (not for separating rooms from each other) double-glazing shall be preferred definitely. Not all double glazed windows have equal heat insulation values. Conventional double glazing at 4 – 12 – 4 mm and 4 – 16 – 4 mm dimensions are the most common types. These dimensions have the following meaning respectively; thickness of the 1st glass - thickness of the intermediate space - thickness of the 2nd glass. If one of the double glazing is laminated, heat insulation value is doubled. Although it is rarely used in our country, insulation level of Argon gas filled glazing that is widely used in Europe is at its best.
Another important point you shall take into consideration while purchasing glazing is warranty period. Warranty period for glazing is 10 years and you shall take your warranty certificate for its validity.
What is the warranty period for PVC windows?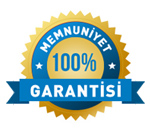 Another point you shall take into consideration while purchasing PVC Window is warranty period. Warranty period for windows is 2 years. For its validity make an agreement with your dealer and request the warranty certificate.
Are PVC windows harmful for human health?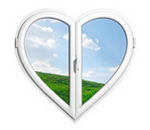 PVC window is a construction element that is not harmful for human health and environment friendly. It does not cause any gas release upon installation. It is not harmful for human health since it does not contain chemicals such as paint, varnish on its surface. Considering the fact that many household items, toys and even blood bags are made of PVC today, PVC is a material that is completely environment friendly and safe for human health.
I had my windows installed 1 year ago, however, since I did not move in I did not remove the protective film, now, when I try to remove them I cannot clean the traces that are left.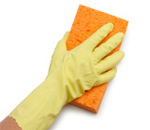 The purpose of the protective foils adhered on your PVC Windows is to protect your windows from impacts that may occur during transport. As stated on the protective film, they shall be removed immediately upon installation. If they are not removed, adhesives and paints contained on the protective film may transfer on the surface of the profiles due to sun and weather conditions. It is not possible to eliminate these traces and stains afterwards.
What shall I use to clean PVC windows, do they require maintenance?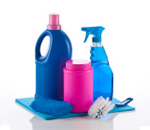 You can use liquid detergents to clean PVC windows. We recommend you to clean your windows with a white cloth without touching the seals. Do not use cleaners such as bleach, hydrochloric acid, powder detergents etc. These may scratch your PVC windows and cause deterioration in the color.
It is sufficient to lubricate the moving parts of the accessories semi annually using thin machine oil.
Shall I prefer rubber seal or gray seal for my windows?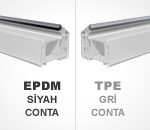 Seals used in PVC windows are manufactured from two types of material. First type is the proven EPDM rubber seal manufactured from material with the best permanent deformation value, the other type is TPE grey seal which is known as grey seal. Both types have completed the required performance tests successfully. However, rubber seal has a longer life in terms of cold and hot resistance and permanent deformation when compared to plastic seal.
We recommend you to clean the seals with a damp cloth without using detergent if you prefer rubber seals.